Welcome to the August 2018 Learning Brain News.
There seems to be an endless stream of interesting news I would like to share with you. But limited time (yours and mine) and space in The Learning Brain News means we have to be selective.
This month's selection includes the value of baby talk, cyber safety via a digital space bounded by a school's community, some new PD for teachers, stress & learning and tips to end screen time without a fight.
Best wishes,
Devon Barnes
Learning Brain News
Latest Research
Baby Talk Boosts Language Learning
Do you think baby talk is cute or annoying? Well, research at the University of Edinburgh in Scotland has found that baby talk actually serves a developmental purpose. It speeds up an infant's ability to learn language.
Children who hear words such as bunny or choo-choo more frequently are faster at picking up new words between nine and 21 months. Read more.
---

Sleep Deprivation Takes Toll on Decision Making
Why do some teenagers make bad decisions? It has a lot to do with changes in their brains but lack of sleep can also impact decision making.
A new 3-year study at Washington State University's Sleep and Performance Research Centre will look at how sleep deprivation affects cognitive flexibility. While the study will focus on adults, it may shed light on the effect on younger people as well. Read more.
What's On?
Online Professional Development for Teachers
Promote pro-social behaviour

Reduce bullying Tour

100 + interactive web lessons

One hour of PD

How to use strengths in education

Evidence for positive psychology

Is it a talent or a strength?

Deficit vs strengths approach

0.5 hour PD
---
What's New?
Your School's Own Social Media Network?
Yes, you can now have a private online social network for your students. It's called The Clubhouse. No outsiders allowed. School staff control The Clubhouse.
It's a safe place to practice social media skills and learn cyber-security.
Learn about the other Social Emotional Learning resources that come with The Clubhouse.
The Learning Success Blog
How You Can Spot Weak Cognitive Skills in Your Classroom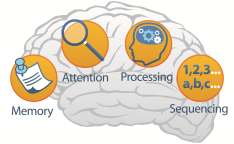 What's happening in your students' brains when they can't follow your classroom instructions? What if a student doesn't want to answer your question? And why do some students struggle to tell a story?
These are all signs that a student may have a weakness in one or more key cognitive skills. Skills essential for learning.
Learn about some of the behaviours you might notice if your students have a weakness in these skills.
---
Careers Guidance for Secondary Students
Teen Career Path – Explore 13 Careers Online
Students can now experience a virtual "day on the job" to help discover a career choice. Using online game-based learning, Teen Career Path provides a way to try working as a civil engineer, electrician, data analyst, nurse, technician, or in eight other roles. Learn more.
Young Minds Under Stress - Impacts on Learning
Stressed students find it hard to learn. It doesn't matter where the stress comes from - social & economic disadvantage, family breakdown, domestic violence, learning difficulties… and many other sources.
In this short video Dr Eric Jensen delivers a positive message about how teachers can combat the effects of stress in their students. Watch the video.
Free Download
Free Resource Centre - Checklists, Tips & Tools for Learning
Have you visited our library of free resources lately? Topics covered include: learning enhancement, learning difficulties, child development, reading and the latest in educational neuroscience. Make sure you bookmark this page and check back soon, because new resources are constantly added.
Book of the Month
iGen - Why Today's Super-Connected Kids Are Growing Up Less Rebellious, More Tolerant, Less Happy, and Completely Unprepared for Adulthood
By Dr Jean M. Twenge
A highly readable and entertaining look at how today's members of iGen - the children, teens, and young adults born in the mid-1990s and later - are vastly different from their Millennial predecessors, and from any other generation, from the renowned psychologist and author of Generation Me. Learn more.
App of the Month
Punctuation & Capitalization
Punctuation & Capitalization is a tool for teaching students about the marks that end sentences. Each lesson features a narrative introduction, audio clips that show how end marks alter how a sentence sounds and increasingly tough quizzes.